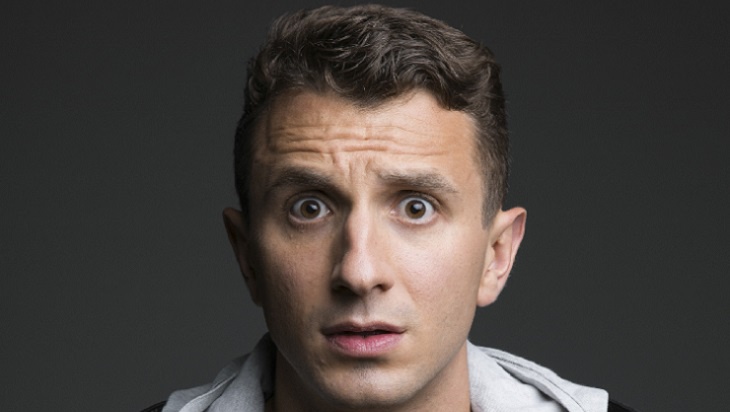 Review – Tommy Little: Enter the Weapon
Show Info
Season: 2nd – April 19th @ ACMI – Beyond
Price: $24 – $32 | Buy Tickets
Little by name only, this man has huge power over his audience from the minute he confidently swaggers on to the stage to the tune of Little Jon's 'Turn Down For What'. This is Tommy Little, and the theme tune to his cool self-proclaimed persona, The Weapon. But throughout the course of the show, we see that Tommy can not always be The Weapon, what with employees at Boost Juice pronouncing his name wrong, being dominated in Halo by 16 year-old boys and completely losing his cool during a sky diving expedition.
Tommy Little is lovable in his self-confessing hopelessness. Though he might make out that he's a bit of a lad, what we really see is his intelligence, insight and sensitivity. He sees the irony in himself, and the world around him and this reduces the audience to fits of roaring laughter in one swift move. He's bristling with confidence, and his charming and cheeky command over his audience kept the room constantly engaged.
Being apparently oblivious to most mainstream media, I only had the faintest idea of who Tommy Little was before I saw his new show 'Enter the Weapon'. Needless to say, this man has a strong fan following, and for all the right reasons. Tommy Little is one of Australia's most switched on and lovable contemporary comedians. There's a reason he's all over our radios, TV screens and now, even our coffee mugs. Whether you're a fan already or seeing him for the first time, it's completely irrelevant. Little just knows how to reel the audience in. He's a master storyteller, a crowd pleaser from go to woah.